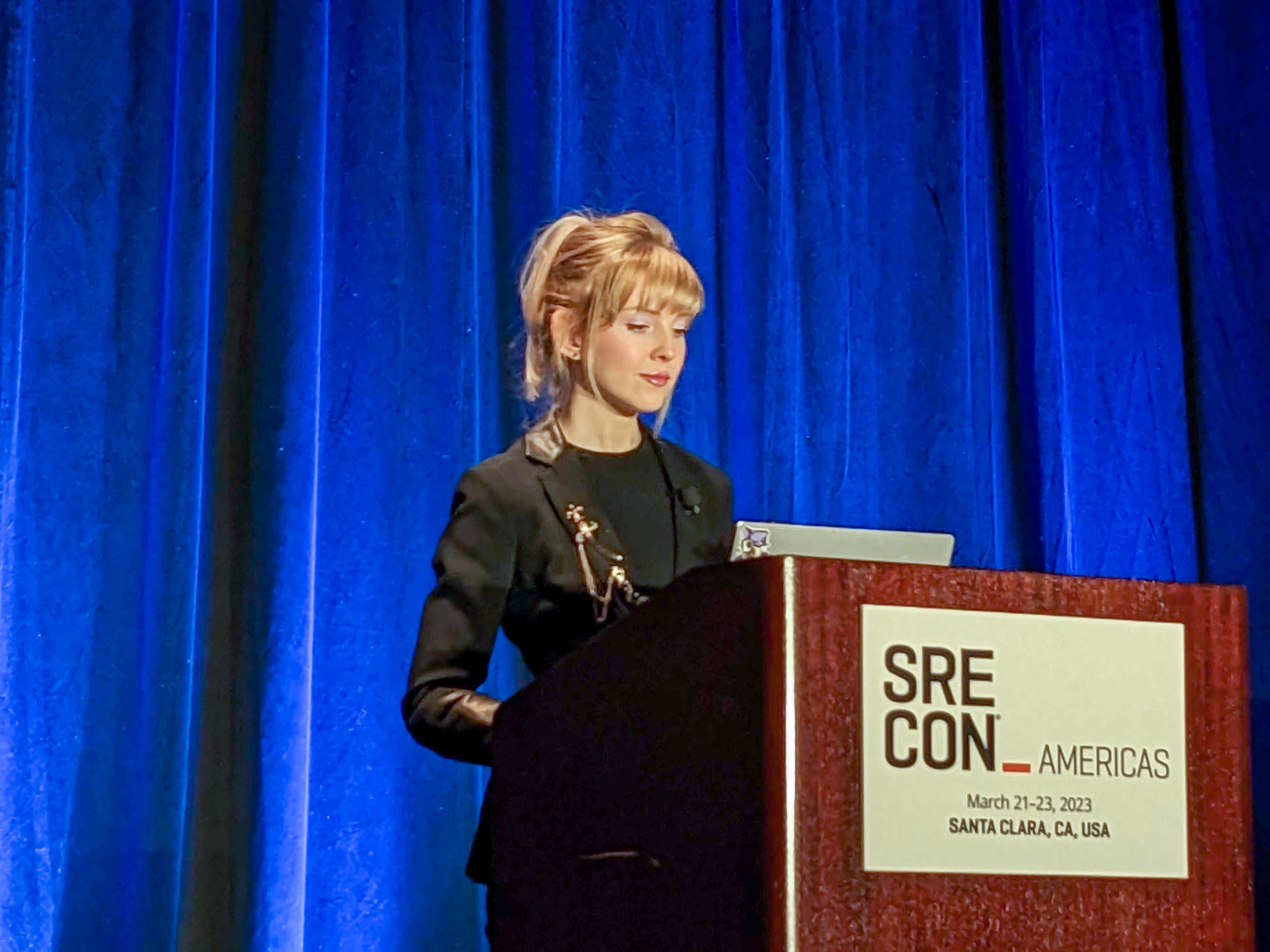 I keynote and speak at top technology and business conferences globally each year, to audiences ranging from small teams to tens of thousands. I am experienced in speaking to audiences across a range of technical expertise, including software leaders and engineers, corporate executives, business leaders, CISOs and security engineers, legal and risk professionals, and entire enterprises.
I am available for select speaking engagements, which can include conference keynotes and private events. I am currently only considering paid speaking opportunities given schedule limitations.
Speaking topics include:
Security transformation and modernization
Software and systems resilience
Security Chaos Engineering
Software quality
Behavioral factors in cybersecurity
Threat modeling
Secure DevOps
This page highlights some of my most popular talks, with live tweets from the audience. For a full list of my prior public presentations, please see my talks page.
"Controlled Chaos" was an InfoSec & DevOps love story from @swagitda_ - an absolute highlight of the whole @velocityconf for me. Breaking down a complex message into actionable advice that even security noobs like me can understand. Beautifully presented. All round awesome 👏 pic.twitter.com/iFTPNo3Fu7

— Marta Jasinska (@geekGirl1984) November 7, 2019
Best talk of the conference today by @swagitda_ talking about applying principles of #ChaosEngineering to security. From theory to practical advice. 💯💯💯 #VelocityConf pic.twitter.com/FNUSWs0iJU

— Adrian Hornsby (@adhorn) November 7, 2019
The #velocityconf keynote by @swagitda_ is an amazing collection of widely applicable infosec tips and tricks that don't require weeks of re-engineering. pic.twitter.com/bfrigm96ac

— Kerim Satirli (@ksatirli) November 7, 2019
I'm going to watch this talk in video form again and again. I hope I can get my team to check it out as well. Damn... Amazing! Looking forward to add more chaos. #velocityconf @swagitda_

— Bas 👨‍💻 (@BasLangenberg) November 7, 2019
These are beautiful slides in style and more importantly content! For those interested in this space should take a look. We should avoid the knee-jerk reaction of blaming users and instead look for the root causes.

— Adrian Rueegsegger (@Kensan42) October 26, 2019
So much true and good thoughts in @swagitda_ 's keynote at #Hacktivity2019 many companies should see this. pic.twitter.com/5tCwbGHSQr

— Csaba Fitzl (@theevilbit) October 26, 2019
So @swagitda_ and @nicolefv are killing it on the @BlackHatHQ stage, talking about the need for security to be part of DevOps, not hostile to it. So much yes here. Full of feels for the SRE team at $gig-1 who were *awesome* and welcoming to an itinerant hacker, led by @edyesed. pic.twitter.com/vB6OtKvIPb

— Brendan O'Connor (@USSJoin) August 7, 2019
Instead of the C.I.A. model, @swagitda_ in Controlled Chaos: The Inevitable Marriage of DevOps & Security at #BHUSA wants us to consider a D.I.E. model — Distributed, Immutable, Ephemeral — which can reduce risk by design and support resilience. #BlackHat

— Duo Security (@duosec) August 7, 2019
Listening to @swagitda_ talk about automating away toil: manual, repetitive tasks that don't provide strategic value. So much of what happens in cyber ops teams meets this description - in some cases it's even the primary function of the team. Must change. #BlackHatUSA

— Mark Orlando (@markaorlando) August 7, 2019
Was disappointed by the lack of cats in @swagitda_ talk. Gladly, she threw in some sneaky Nietzsche. Satisfied and always, impressed! #ChaosEngineering #security #infosec #Blackhat2019 pic.twitter.com/9zIpsfbrhI

— Rhea Naidoo (@Engineer_Chic) August 7, 2019
@swagitda_ writing to send some gratitude for what you've written about Resilience. I've spent the last several years of my life forwarding it as an essential strategy + every ally I find is a light at the end of the tunnel. No small thing. From the bottom of my heart: thank you.

— Chad Calease☃️❄️⛄️ (@wimzkl) August 22, 2018
if @swagitda_ writes a book about stuff like this - shut up and take my money https://t.co/ynUboqEwgf

— Rahul Nair (@0xrnair) October 19, 2017
@swagitda_ First briefing at #BHUSA17 that really made me think. Well presented Kelly.

— AngryRed Inc (@AngryRedInc) July 26, 2017
My 2 fave briefing talks today were by @swagitda_ and @albinowax as they triggered some interesting ideas. #BlackHat2017

— Mark Loveless (@simplenomad) July 27, 2017
Basic message of @swagitda_'s Game Theory infosec talk: create systems that waste attacker's time enough that it's not worth their time.

— Michael Heller (@MT_Heller) July 26, 2017
Using game theory to describe #cybersecurity? @swagitda_ offers actionable strategies for white hats #BHUSA https://t.co/UJSMvhUq4Y

— SearchSecurity.com (@SearchSecurity) July 29, 2017