This year's nominees for the 2019 edition of the RSA Conference's Innovation Sandbox were announced this morning. As I'm wont to do, I wanted to explore the funding side of these ten startups.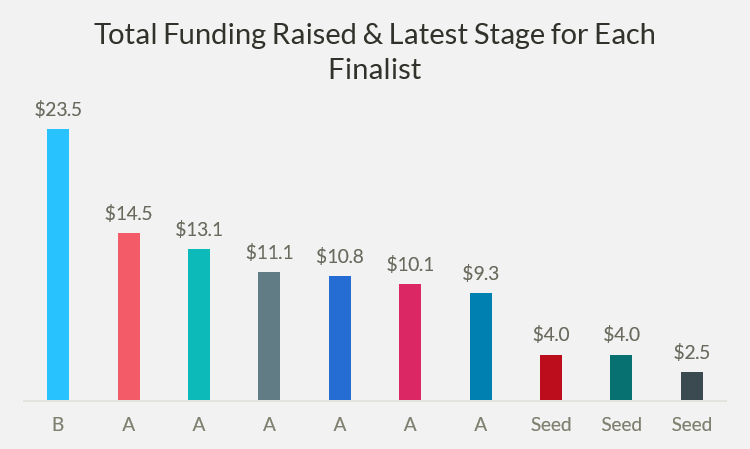 Total Funding Raised & the Latest Stage for each 2019 RSA Innovation Sandbox Finalist ($USD millions)
The median funding raised by all ten startups is $10.5 million (mean of $10.3 million), which makes sense for an early stage-flavored competition. Additional analysis is required to compare funding levels of finalists from prior years to see if there is a correlation with those who win the competition.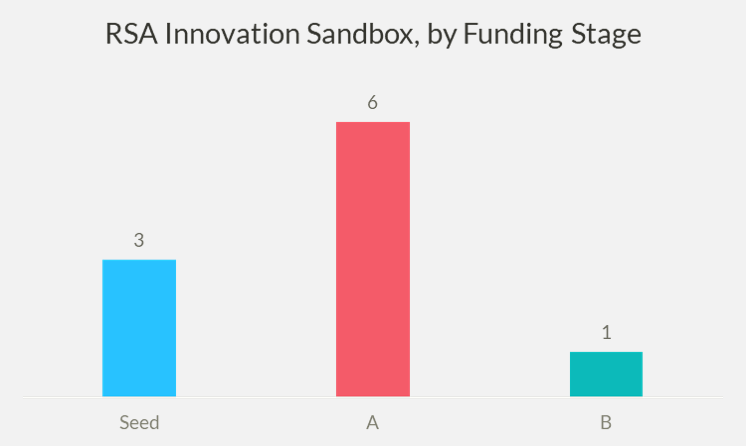 The distribution of startups by stage is also consistent, with the highest concentration at the Series A stage. Of course, another way to determine startup maturity is through actual temporal age. The median number of months[1] since the finalists' founded dates is 27.5, equating to roughly 2.3 years. The eldest is just shy of four years old.
Category-wise, there is a healthy distribution across sub-sectors. The highest concentration is in DevSecOps-related tools, which range from detecting attacks in modern infrastructure to "API security." There are also two finalists tackling data protection/privacy. The rest include one startup each tackling anti-fraud, appsec, asset management, firmware/hardware security, and IAM. If you follow me, you know I find masochistic pleasure in examining the nature of infosec buzzwords, and the Innovation Sandbox word cloud does not disappoint on this front: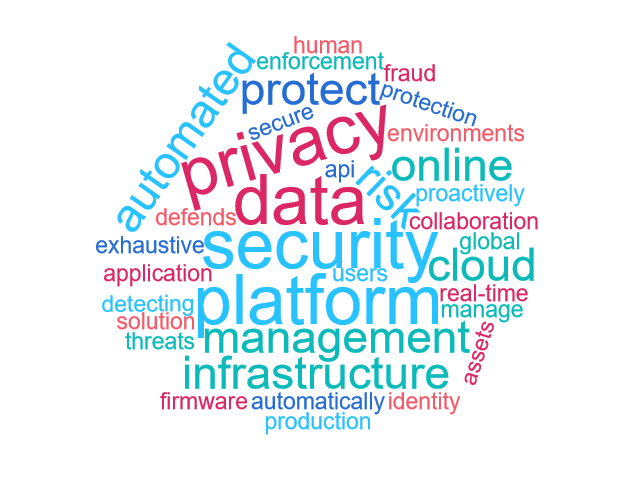 "a security platform to automatically protect human fraud from exhaustive enforcement"
What is perhaps most peculiar about this group of finalists to those who follow VC funding trends in infosec (hopefully I am not alone in this nerddom), is that there is scant overlap between investors in these startups. Perhaps, like with movie studios and the Oscars, each VC selects the startup in their portfolio they believe is in the strongest position to win. The sole overlapping investor was ClearSky, who led Capsule8's Series B last August, and also led CloudKnox's "Venture Round" (which feels very Series A) last October. The full list of lead investors in these ten startups is:
Bain Capital Ventures
Bessemer
ClearSky x 2
Foundation Capital
Madrona Venture Group
Mayfield Fund
New Enterprise Associates
PayPal
PSP Growth
Rally Ventures
S Capital
Team8
USVP
Y Combinator
YL Ventures
All finalists are based inside of the U.S. Of those, 40% are based in California — New York has two, and Kansas, New Jersey, Oregon, and Virginia have one startup each.
As a final statistic, only one company's founding team includes any female founders.
---
[1] Note: Not every startup gives the precise day they were founded, so I used a combination of Crunchbase and LinkedIn data (e.g., the start date the founder lists) to get as close as possible.
---
465 Words
2019-02-05 18:02 -0500